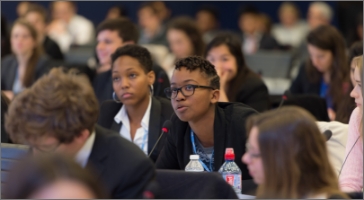 A United Nations Program for Youth
The Model United Nations (MUN) is a program that aims to awaken the diplomatic curiosity of young people by giving them the opportunity to participate in a simulated UN-style debate.
Participants research a country, take on the role of diplomats, study international issues, debate, deliberate, consult, and then propose solutions.
Clear objectives: to promote human rights and peace. Coordinated by the students, the conference atmosphere is full of energy and dynamism.
FerMUN, the MUN program of the Lycée International de Ferney-Volatire, organizes its multilingual conference every year within the walls of international organizations in Geneva. Thanks to the interpretation team and the interpretation booths, participants can follow the conference in French, English and Spanish.